AUDIOFEED FESTIVAL 2016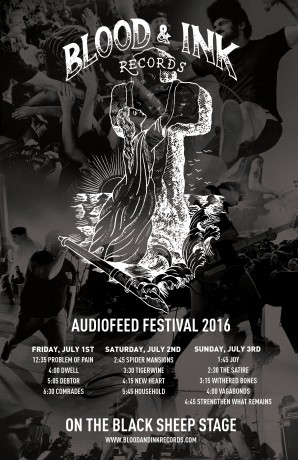 Blood & Ink Records
is happy to announce the Blood & Ink + Friends Showcase at this years Audiofeed Festival in Champaign, IL on July 1-3. Blood & Ink will take over the Black Sheep Stage each day to showcase some of the best in punk, hardcore, and indie rock.
Blood & Ink Records
 will also be hosting a pop-up store with limited vinyl, CDs, shirts and more!
The showcase schedule can be found below. More information on the festival can be found at www.audiofeedfestival.com. See you there!
AUDIOFEED FESTIVAL 2016
on the Black Sheep Stage
FRIDAY, JULY 1ST
12:35 Problem of Pain
4:00 Dwell
5:05 Debtor
6:30 Comrades
SATURDAY, JULY 2ND
2:45 Spider Mansions
3:30 Tigerwine
4:15 New Heart
5:45 Household
SUNDAY, JULY 3RD
1:45 Joy
2:30 The Satire
3:15 Withered Bones
4:00 Vagabonds
4:45 Strengthen What Remains